NOUS AVONS LU
sur le Net

Formez la nouvelle génération de techniciens spécialistes et d'informaticiens
https://www.google.com/intl/fr_be/edu/resources/more-educational-resources/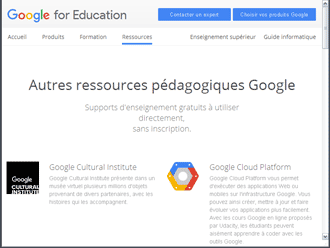 Exploring Computational Thinking (ECT) is a curated collection of lesson plans, videos, and other resources on computational thinking (CT). This site was created to provide a better understanding of CT for educators and administrators, and to support those who want to integrate CT into their own classroom content, teaching practice, and learning.
https://www.google.com/edu/resources/ programs/exploring-computational-thinking/
NDLR-EPI : Pour permettre aux enseignants d'intégrer la pensée informatique... et accessoirement Google !
___________________
Association EPI
décembre 2016