NOUS AVONS LU
sur le Net

Teaching Programming for Secondary School:
a Pedagogical Content Knowledge Based Approach
Thèse de Mara Saeli (communiquée par Martin Quinson)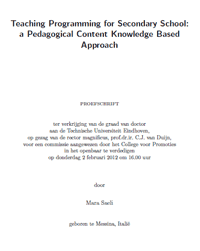 Il y a pleins de choses très intéressante dans cette thèse, où Mara explore la question de ce qu'il faut enseigner de l'informatique au lycée.
La douche froide vient dans le chapitre 6 de conclusion :
« This situation is the result of an action to introduce CS in secondary education, when no teachers of CS were available in 1998. The solution opted at that time was to organise in-service training for teachers certified in other disciplines (e.g. economics, art, mathematics, Dutch, language, etc.). This resulted in a populationof Dutch CS teachers willing to teach CS, but having a weak disciplinary background. Now CS risks to be erased from the CS curriculum for secondary school, because no clear solutions are available to the problems outlined, though efforts are being made. »
Note EPI : une situation qui fait penser à la nôtre !
Déjà, en France l'option informatique des années 80-90 a été supprimée par deux fois parce que le MEN n'a pas voulu former les enseignants nécessaires. On a évidemment trouvé des raisons pédagogiques pour ces suppressions, on en trouve toujours ! Espérons que les mêmes causes ne produiront pas les mêmes effets.
http://alexandria.tue.nl/extra2/724491.pdf
___________________
Association EPI
Septembre 2013